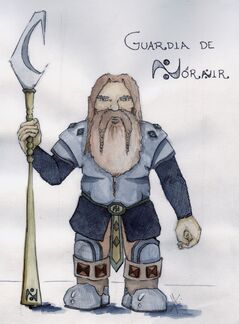 En Enanias se mezclan densos bosques, largas cordilleras, anchas mesetas y extensos prados. Por lo general en su geografía suelen intercalarse llanuras con accidentes (bosques o montañas). Los pueblos no tienden a modificar la forma que toma la propia naturaleza, pero si que se levantan cerca de sus recursos.
La Capital es la única gran urbe de Enanias. Si bien hay pueblos más grandes que otros y más ricos que muchos, nunca llega a juntarse tanta cantidad de gente como en Capital.
Hay una gran cantidad de pueblos y aldeas distribuidos por toda Enanias, generalmente cerca de los recursos o los caminos, pero también las hay poblaciones perdidas en mitad de grandes llanuras, rodeadas de campos.
Las zonas menos habitadas de Enanias están al norte, sus duras condiciones climáticas fuerzan a ello y complican la comunicación por caminos, por ello las pocas aldeas que hay allí viven más como antes y creen en los cinco dioses antiguos.
Más en el sur mantienen un contacto más constante con los Humanos y los Medianos, con los que mantienen comercio terrestre constante.
GEOGRAFIA DESTACADA
Camino del oro, carretera principal que cruza Enanias desde el bosque mágico hasta Capital.
Puerto sur, un puerto muy activo en el comercio con los humanos. Segundo puerto comercial de Enanias.
Nornir: Ciudad Capital y puerto del norte, hogar de numerosos enanos, allí se encuentra el trono de oro, castillo y palacio del rey Strombel. Es una fortificación que rodea una antigua montaña. En su parte trasera tiene el puerto del norte, el más grande y activo de toda Enanias.
Estepas y el Gran Volcan. Zona más norteña donde habitan aldeas con creencias religiosas de los 5 dioses antiguos.
Montañas picudas: Pico dorado, Paso de la grieta del eco y las Cataratas. Gran concentración de minas y paso de comercio por tierra con El León. Lugar del templo del Oraculo Baos.
Lindes del Bosque Mágico. Repleto de aserraderos para frenar el avance del misterioso bosque.
MAPA DE ENANIAS
[...]
Ad blocker interference detected!
Wikia is a free-to-use site that makes money from advertising. We have a modified experience for viewers using ad blockers

Wikia is not accessible if you've made further modifications. Remove the custom ad blocker rule(s) and the page will load as expected.